Collections of Wood Species, Xylotheques
We would like to provide you with links to some very elaborate older collections of wood samples:
There is a book published in the USA between 1888-1913 (and extended posthumously in 1928) with the title: "The American Woods" by Romney Beck Hough, that surely belongs to the most beautiful wood sample collections. It is detailed and particularly beautiful furnished with three wood views for each species! Here is a sample page (California walnut) from this book:
This collection was originally consisting of three thin cuts of each wood species, made especially for this purpose, with a cross-sectional, a radial and a tangential wood sample of approx. 12 x 5 cm size. These thin veneer-like wood sheets were arranged in a very elaborate way between two black paper sheets, one of which was arranged like a passe-partout with gilt edges, the corresponding description was enclosed on the opposite side in English, German and French. This nowadays priceless work is already fascinating due to its lush Victorian furnishings typical of this period, the content is at least as valuable and versatile!
You can find the complete overview here:
http://www.lib.ncsu.edu/specialcollections/forestry/hough
Sorted by popular names:
http://www.lib.ncsu.edu/specialcollections/forestry/hough/common.html
And sorted by scientific name:
http://www.lib.ncsu.edu/specialcollections/forestry/hough/toc.html
The three columns "Image" on the right side of these pages are linked to images with 75, 200 and 600 dpi density. With the highest resolution important details can be recognized in the end grain woodcuts even on the screen!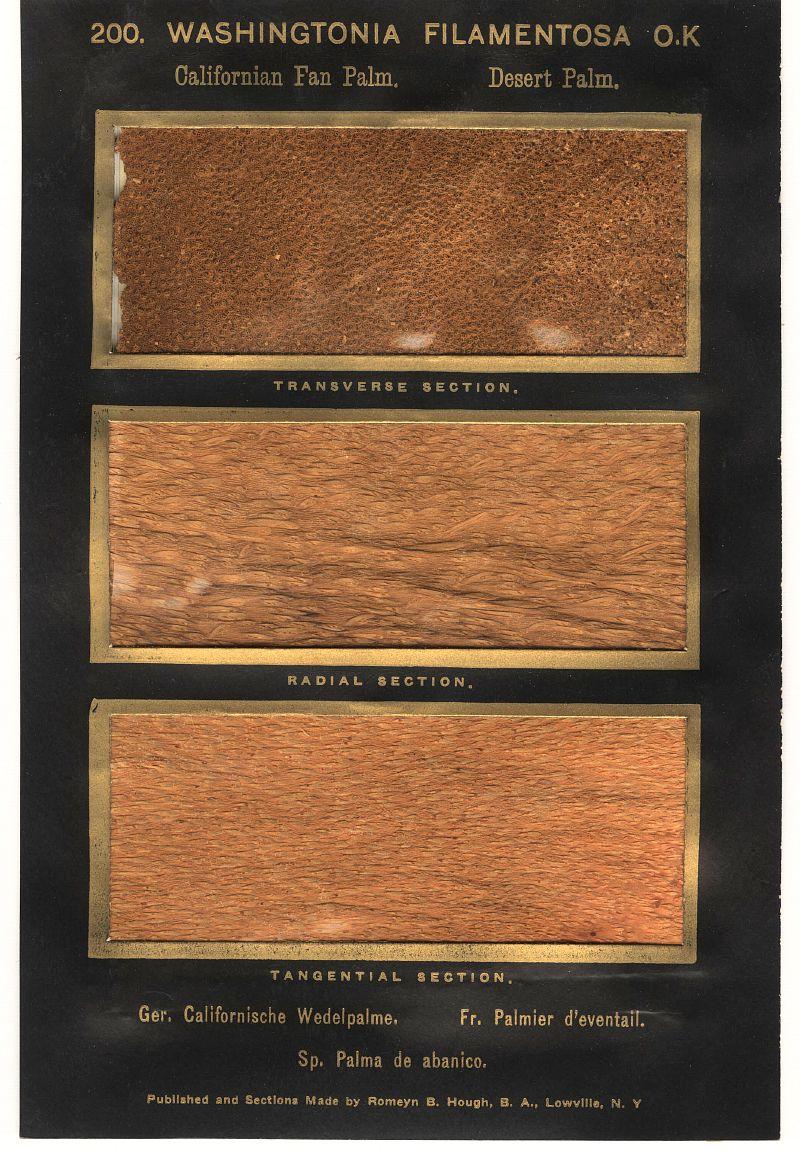 -----------------------------------------------------------------------
Another rare collection of antique wood samples from 1793-1795 is a little out of this range, as the pictures were painted by hand in the late 18th century:

Jan Christiaan Sepp & Martinus Houttuyn: Houtkunde We have to thank the Library of the Delft University (Netherlands), that made a really rare book online accessible for the public. The special attraction lies in the often abstract and idealized depictions of the wood species, usually far away from any scientific taxonomy of today, but we had great pleasure in finding today's species of wood in this work, that is more than 220 years old! Here is the complete title:
Sepp, Jan Christiaan & Martinus Houttuyn:
Houtkunde, behelzende de afbeeldingen van meest alle bekende, in- en uitlandsche houten die tot den huis- en scheepsbouw, tot schrynwerk, werktuigen en gereedschappen, tot verwstoffen en in de geneeskunde, worden gebruikt: 
op zulk eene manier, als die door liefhebbers der natuurlyke historie, tot vermaak en nuttigheid, worden verzameld en bewaard; 
met aanwyzing van derzelver afkomst, hoedanigheden en gebruik: voorgesteld in de natuurlyke tekening en koleuren, volgens de Hollandsche, Hoogduitsche, Engelsche, Fransche en Latynsche benaamingen, en met uitvoerige bladwyzers verrykt.
I have tried to keep the somewhat stilted and bumpy style of the 18th century language to the translation:
Sepp, Jan Christiaan Martinus Houttuyn: Wood knowledge, comprising the illustrations of almost all known domestic and foreign woods used in house and ship building, carpentry, tools and equipment, weaving and medicine: collected and preserved in the same way as it is done by lovers of natural history for pleasure and usefulness; naming their origin, qualities and use: presented in natural drawings and colours, with Dutch, High German, English, French and Latin names, and with a detailed table of contents.
Here are a few pages as an appetizer:
A four-language description of the above wood samples: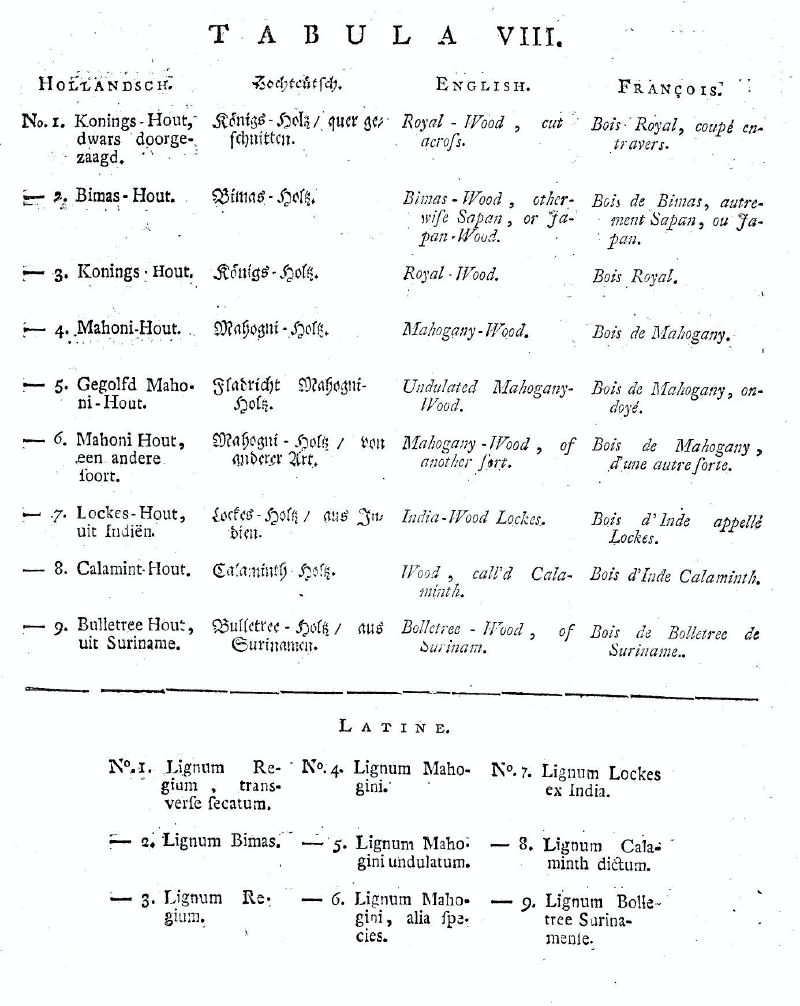 Another very elaborate scientific collection of the
Tervuren Xylarium
can be found in the Belgian Royal African Museum in Tervuren near Brussels. This state-run xylarium is based on a collection founded in the 19th century, is still being continuously expanded and processed and has a comprehensive range of approx. 61,500 exhibits of about 14,000 plants and woods from all over the world. Although housed in the Africa Museum, this collection has samples from all over the world and includes tree discs (dendrochronology), thin sections (microscopy), macro and microphotos. Three databases on taxonomy, samples and pictures of wood ease a comfortable and accurate search.
http://www.africamuseum.be
The advantage of this xylarium is not so much in the exuberance of the presentation as in the preceding ones, but in the scientific variety and systematics. For example, if you want to take a look at the
leaf of a grenadilla tree from East Africa
, you can comfortably satisfy your curiosity on screen!
For every wood lover or collector it is worth paying a visit to the beautiful arboretum in the park of Tervuren, which is situated in the immediate neighbourhood, where 460 important tree species of the northern temperate zones and the Andes grow on 100 hectars in 40 geographically divided plots.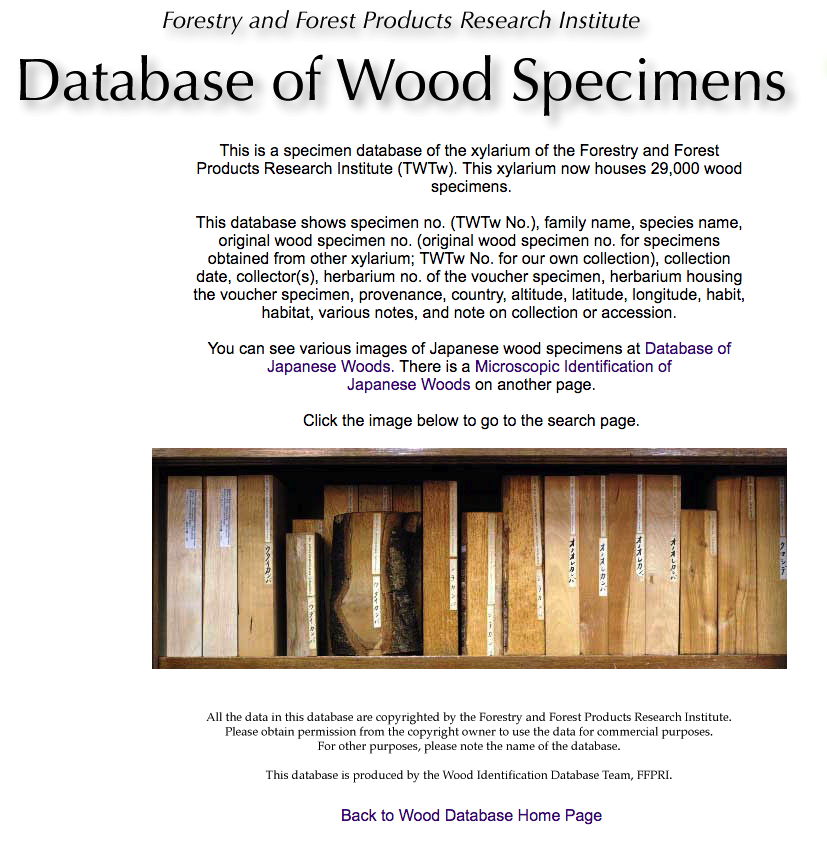 Further away is this collection of wood samples: In Japan, the
Forestry and Forest Products Research Institute
(TWTw) has collected about 10,000 wood samples from 800 native Japanese species of trees and made them available in the form of databases, microscopic and macroscopic wood photos and images of plant parts!
Enjoy browsing or walking through these works!